Delray Beach FL Open Carrying of a WEAPON DEFENSE ATTORNEYS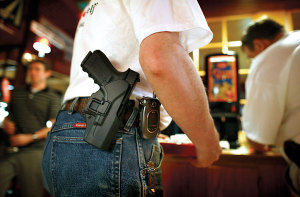 If you or a loved one has been charged with a weapons offense such as open carrying of a weapon or carrying a concealed weapon in South Florida, Arnesen Law can help. Jay Arnesen is a retired police officer turned defense attorney who now dedicates his life to defending citizens charged with criminal offenses.
During his service in law enforcement, Mr. Arnesen received the same advanced weapons training provided to officials working for the FBI, DEA, and US Customs Bureau. Ultimately, he understands the law, as well as the complexities involved in weapons cases, and can fully evaluate your case to identify any potential violations of your constitutional rights.
With offices conveniently located in Boca Raton and Fort Lauderdale, Mr. Arnesen appears in courts throughout South Florida on a daily basis. Contact his offices anytime at 561-419-9630 for a free consultation and find the help you need to the fight the State's weapons case against you.
"As a former police officer, I used to help prosecute these charges for the State. Now, let me use my training and experience to combat these charges for you in court." Jay Arnesen, Esq., Criminal Defense Attorney
Open Carrying of a Weapon – Florida Statutes Section 790.053
Chapter 790 of the Florida Statutes governs crimes related to firearms and other weapons. Section 053 of this chapter prohibits individuals from what is legally defined as the "open carrying of a weapon" unless said individual is in possession certain items, such as chemical spray, for the sole purpose of self-defense.
Section 790.053 sets forth the following with regard to the open carrying of a weapon in Florida:
(1)   Except as otherwise provided by law and in subsection (2), it is unlawful for any person to openly carry on or about his or her person any firearm or electric weapon or device. It is not a violation of this section for a person licensed to carry a concealed firearm as provided in s. 790.06(1), and who is lawfully carrying a firearm in a concealed manner, to briefly and openly display the firearm to the ordinary sight of another person, unless the firearm is intentionally displayed in an angry or threatening manner, not in necessary self-defense.
(2)   A person may openly carry, for purposes of lawful self-defense:
(a) A self-defense chemical spray;
(b) A nonlethal stun gun or dart-firing stun gun or other nonlethal electric weapon or device that is designed solely for defensive purposes.
(3)   Any person violating this section commits a misdemeanor of the second degree, punishable as provided in s. 775.082 or s. 775.083.
Open Carrying of a Weapon – Potential Penalties
Second Degree Misdemeanor Open Carrying of a Weapon: maximum term of 60 days in the county jail, up to 6 months of probation, and fines not to exceed $500
Contact Delray Beach FL Open Carrying of a Weapon Defense Lawyer Jay Arnesen for Immediate Assistance
Attorney Jay Arnesen is well-versed in Florida's laws regarding weaponry and has the experience necessary to fight for your rights if you have been charged with open carrying of a weapon in South Florida. Contact his Boca Raton or Ft. Lauderdale offices anytime at 561-419-9630 for a free consultation about your weapons case.