DELRAY BEACH FL BATTERY AND FELONY BATTERY DEFENSE LAWYERS
WITH OFFICES IN BOCA RATON, FLORIDA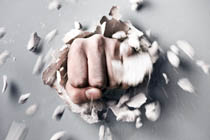 The criminal defense lawyers at Arnesen Law represent clients accused of a myriad of assault and threat-related offenses, some of which include battery, felony battery, aggravated assault, and assault. Our seasoned attorneys represent clients in jurisdictions throughout South Florida, including Delray Beach, Boca Raton, and Jupiter.
With a practice focused entirely on serving clients charged with criminal and DUI offenses, the lawyers at Arnesen Law have accumulated a wealth of experience, developing specifically-formulated techniques to handle these cases. In fact, the firm's founder, Jay Arnesen, honorably retired from the police force after nearly losing his life while on duty. He now dedicates himself and his practice to ensuring that every one of his clients receives the vigorous defense they deserve.
With offices conveniently located in Boca Raton and Fort Lauderdale, Mr. Arnesen and his team are readily available to clients facing charges in all of South Florida. Contact the offices of Arnersen Law anytime at 561-419-9630. Our lawyers are always pleased to provide initial legal consultations free of charge.
"As a former police officer, I used to help prosecute these charges for the State. Now, let me use my training and experience to combat these charges for you in court." Jay Arnesen, Esq.
Battery – Florida Statutes Section 784.03
Under Florida Law, Chapter 784, Section 21 provides, in pertinent part:
(1)   (1)(a) The offense of battery occurs when a person:
1. Actually and intentionally touches or strikes another person against the will of the other; or
2. Intentionally causes bodily harm to another person.
             (b) Except as provided in subsection (2), a person who commits battery commits a misdemeanor of the first degree.
(2) A person who has one prior conviction for battery, aggravated battery, or felony battery and who commits any second or subsequent battery commits a felony of the third degree. "Conviction" means a determination of guilt that is the result of a plea or a trial, regardless of whether adjudication is withheld or a plea of "no contest" is entered.
Felony Battery – Florida Statutes Section 784.041
Charges for felony battery and domestic battery by strangulation are governed under a separate statute than typical battery offenses, as these crimes are considered more egregious and thus, entail harsher penalties. The fundamental distinction between charges for battery and those for felony battery or domestic battery by strangulation hinges on the extent to which they victim is injured as a result of the offense. As detailed below, felony battery must result in "great bodily harm, permanent disability, or permanent disfigurement," whereas simple battery charges can apply in any case in which the victim sustains bodily injury of some kind.
According to Chapter 784, Section 41 of the Florida Statutes:
(1) 
A person commits felony battery if he or she:
(a) 
Actually and intentionally touches or strikes another person against the will of the other; and
(b) 
Causes great bodily harm, permanent disability, or permanent disfigurement.
(2)   (a) 
A person commits domestic battery by strangulation if the person knowingly and intentionally, against the will of another, impedes the normal breathing or circulation of the blood of a family or household member or of a person with whom he or she is in a dating relationship, so as to create a risk of or cause great bodily harm by applying pressure on the throat or neck of the other person or by blocking the nose or mouth of the other person. This paragraph does not apply to any act of medical diagnosis, treatment, or prescription which is authorized under the laws of this state.
(b) 
As used in this subsection, the term:
1. 
"Family or household member" means spouses, former spouses, persons related by blood or marriage, persons who are presently residing together as if a family or who have resided together in the past as if a family, and persons who are parents of a child in common regardless of whether they have been married. With the exception of persons who have a child in common, the family or household members must be currently residing or have in the past resided together in the same single dwelling unit.
2. 
"Dating relationship" means a continuing and significant relationship of a romantic or intimate nature.
(3) 
A person who commits felony battery or domestic battery by strangulation commits a felony of the third degree, punishable as provided in sections 775.082, 83, and 84.
Battery and Felony Battery – Potential Penalties
Third Degree Felony Battery or Domestic Battery by Strangulation: maximum sentence of 5 years in prison, up to 5 years of probation, and fines not to exceed $5,000
First Degree Misdemeanor Battery: maximum term of 1 year in the county jail and fines not to exceed $1,000
Contact Our Palm Beach County Battery and Felony Battery Defense Lawyers for a Free Consultation
The decision to enlist an experienced defense lawyer who can challenge the State's case against you, can ultimately change the course of your life. The lawyers at Arnesen Law understand the importance of a comprehensive and vigorous defense and we refuse to provide anything less to our clients. If you or a someone you love has been charged with battery or felony battery in South Florida, call us any time, day or night, at 561-419-9630 to discuss your case.