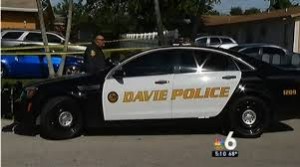 A man from Davie has been arrested on child pornography charges.
The man, Michael Christopher Salisbury, has been investigated by the police for the past month after they learned from an internet service provider that child pornography was allegedly being looked at from his internet protocol address. During a search of Salisbury's home on Tuesday, the police found two images of children on his laptop. Salisbury admitted to police he does download pornography but only adult. He also told police that no one else had access to that computer. After the search, the authorities removed three children whose ages were 5,9 and 11 from the house and placed them with relatives for the time being. Salisbury was released from jail Wednesday after posting bail.
Police have charged Salisbury with possession of child pornography, possession of marijuana, and three counts of child neglect. In Florida, a person can receive 5 years in prison for each image on child pornography they are found with. A conviction for possession of child pornography in this case can therefore result in a prison sentence of 10 years. Further, child neglect is a third degree crime in Florida. If Salisbury is convicted on all three counts he could receive an additional 15 years in prison.
For more information on this case, access the following article: "Davie man accused of possessing child pornography."