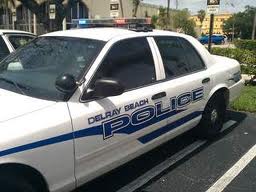 A woman from Delray Beach was arrested over the weekend when she was found drunk in her car with two girls in the back seat that she was babysitting.
Police arrested the woman, Henley Bracken, after a witness drove by her car on North Federal Highway at around 2 a.m. and thought it might have been in an accident. The witness then allegedly observed Bracken try to back the car up off the grass before stopping in the middle of the road, blocking off the lanes. Another witness after that claims he saw Bracken's head laying on the steering wheel when driving by. He reported that he was able to remove her from the car before driving it to a safer location because of the girls in the back seat. Police claim that she was not even able to stand up to perform field sobriety tests and that her speech was extremely slurred. The officers then cancelled the tests for safety reasons as they suspected Bracken might have been under the influence of other substances besides alcohol.
Bracken was charged with DUI and child abuse following the incident. In Florida, a first offense DUI can subject a person to 6 to 9 months in jail and a fine of $500 to $2,000. Further, a conviction will also result in a license suspension of 180 days to a year. The child abuse charge will also add time to the possible prison sentence if convicted. In this case, it will likely be third degree charge meaning it could result in up to 15 years in prison.
For more information on this case, access the following article: "Delray woman faces DUI, child abuse charges, police say."