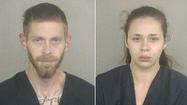 Law enforcement agencies across South Florida have responded to a recent surge in robbery crimes committed under the false pretense of cell phone and computer sales advertised through Craigslist.
After at least five Craigslist-related robberies in the South Florida area since June 4th, officials from the Boca Raton Police Department announced that the police station will now serve as a safe transaction point for those concerned about their safety during an Internet-generated sale.
There were three armed robberies of this kind in the three weeks preceding the Boca announcement, while the Broward County Sheriff's Office and police departments in Delray Beach and Boynton Beach soon followed suit. In a recent case that exemplifies this current trend, 29-year-old Sunrise resident Neil Heckart and 29-year-old Clarissa Menken, of North Lauderdale, were charged with armed robbery, among other offenses, for allegedly attempting to steal a cell phone from another individual in a local store parking lot.
Per reports, Heckart and Menken agreed to meet the alleged victim to purchase an iPhone for $500. Instead, the defendants allegedly stole the phone and attempted to flee the scene, injuring the victim during an altercation and subsequently driving away with the victim hanging from the window of their vehicle. Heckart then drove the car into a tree, at which time the victim was able to escape.
Shortly thereafter, officers arrested Heckart and Menken, charging them with armed robbery and kidnapping. Both are currently being held without bail and could be subject to significant penalties if they are ultimately found guilty. Under Chapter 812, Section 13 of the Florida Statutes, robbery offenses can be classified as first or second degree felonies. The presence of a weapon during the commission of the crime is the primary factor which determines the degree of these charges, with offenses involving the possession of a weapon considered more serious.
A robbery not involving a weapon is a second degree crime, punishable by a maximum of 15 years in prison, 15 years of probation, and up to $10,000 in fines.
For more information pertaining to this case, access the following article: Craigslist-related robberies prompt Weston, Boca police to offer safe space for transactions